Amanda Abresch is the lead trainer and owner of Smart Pups
Amanda has always loved animals and has known that she wanted to work with them since she was a small child (one of her first words may have well been "doggie"). Childhood pets included dogs, cats, horses, turtles and the occasional piglet that she "rescued" from the farm on which she grew up.

Amanda attended Delaware Valley College and graduated with a Bachelor's degree in Animal Science, with a minor in Animal Biotechnology and Conservation. Amanda began working as a veterinary technician during college and worked in both emergency and general practice clinics. During her 7 years as a vet tech, she noticed a resounding similarity between the different clinics and patients that she saw- many dogs and owners are confused by the mixed signals that we give and receive.
Recalling equine behavior classes from college, she began researching animal behavior and dog training to gain a better understanding of canine development and communication, as well as the differences in human and canine communication. Amanda graduated from Animal Behavior College and completed an 8 month externship during which she assisted in and taught weekly obedience and agility classes and observed weekly private lessons ranging in everything from getting a new puppy to balancing a multiple pet household to aggression cases.
Amanda decided to open her own dog training business and use exclusively positive reinforcement and reward based techniques with all of her clients. As a result of her dedication to not using fear but instead utilizing toys, praise, affection and treats to reward correct behaviors, she has helped to strengthen the bond between over 300 dog-human families since opening Smart Pups in 2010.
As a Certified Pet Dog Trainer-Knowlegde Assessed, Amanda has demonstrated her knowlegde of animal behavior, teaching skills, learning theory, canine development and body language as well as multiple behavior management techniques. In addition, she is a member of the Association of Professional Dog Trainers, through which she continues learning about dogs by attending conferences and networking with trainers across the country.
One of Amanda's more challenging cases has been her own dog Roxie, the pit bull mix pictured here. When Amanda was working as a veterinary technician in Hawaii, Roxie was found underweight, ill and malnourished and brought into the clinic.
When Roxie was first placed in her foster home, she didn't know what toys were and knew few commands. She was not well socialized with other dogs and as a result did not always know how to play well with them. After being medically treated, Roxie needed a permanent home. Amanda and her husband took Roxie in and began to teach her commands and that people do good things!
Instead of going after other dogs, Roxie is now able to sit and focus on her owners- a great way to stop fights before they happen. In addition, Roxie's repertoire of commands now includes sit, down, stay, wait, shake, wave, high-five, fetch, catch, come, heel, place, roll over, leave-it, and she is learning more every chance her mommy gets!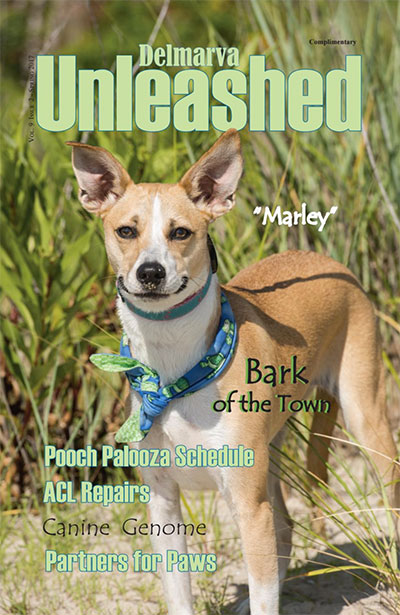 Amanda has been writing articles on canine training and behavior for Delmarva Unleashed since 2016 and is thrilled to announce that she has been asked to do a Q&A column for the magazine starting this summer. You can pick up a copy at local veterinarians, pet stores, or check it out online, where you can also access past issues.
Check out Delmarva Unleashed Here.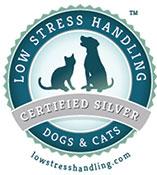 Since seeing stress in pets during veterinary office visits is part of what prompted her to delve into behavior and training, Amanda is excited to see more vet clinics offering low stress handling techniques to aid in preventative care and medical treatment for dogs. Did you know that many dogs first exhibit behavioral problems such as aggression as a result of a stressful visit to the vet or groomer? It's true, and too many people avoid the vet because of bad experiences in the past. Your vet should be your ally in caring for your pet and Amand wants to help you and your pup. She is now certified in low stress handling and not only uses these techniques with pets during training, but can show you how to get your pet acclimated to handling they may experience at the vet and groomer. From teeth brushing and ear cleanings to nail trims and pilling your pup, Smart Pups can help!